Nashville Property Management
Let us manage your Nashville rental property
Top 5 Reasons to Work with Us
Browning-Gordon & Co., Inc., CRMC® is a full service Nashville property management company, which offers our clients two basic levels of services. The first level is LEASING ONLY, where we work as your leasing professional to secure the best tenants for your property, on the best terms possible, leaving the day-to-day management to you. The next level is FULL MANAGEMENT, where we supply the leasing services and also provide you with complete day-to-day management.
Leasing Only Service
If you prefer to handle the day-to-day management of your property yourself but do not have the time or availability to market and show vacancies on a moment's notice, nor the expertise in choosing a new tenant, this is the right program for you. Browning-Gordon will provide the following services:
Careful and thorough tenant screening and qualification
Promoting of available properties, utilizing a broad range of advertising media
Sharing of availability lists with local companies and real estate firms
Professional, licensed agents to show your rental property
Collection of appropriate deposits
Use of strong, comprehensive lease agreements and addenda
24 hour rental hotline
Full Management Service
Our Company's Golden Rule:
"We strive to manage the property of others, as we would have others manage ours."
You can rest assured that Browning-Gordon knows that property worth owning is worth being properly managed. Our company has been in the property management business since 1960. We have both the experience and qualified personnel to provide the highest quality property management services to our clients. Our company never sleeps; we are on duty 24 hours a day, 365 days a year! In addition to the services listed for the LEASING ONLY SERVICE, we also provide the services listed below to our FULL MANAGEMENT clients:
Computer generated monthly owner reports
24 hour emergency maintenance service
Enforcement of lease, rules, and regulations
Monitoring of legislative changes affecting landlords
Owner and tenant surveys
Coordinating complete turnkey services----repairs, painting, cleaning, etc.
Key control procedures to protect against unauthorized entry
Collection of rent and other charges
End of year summary reports and 1099's to assist with tax preparation
Your residential properties are special to you and we are specialists in residential properties. If you do not have the time to manage your property, if your property is a house, condominium, townhome, or duplex; if it is residential...we can help you.
Inquire About Our Services
(615) 383-3999
Frequently Asked Questions
How do you screen tenants?
We want to secure good tenants for you; therefore, we use a service to secure a thorough credit check before each lease is signed. This includes checking credit history, past rental history, salary, employment and public records for bankruptcies, judgments and liens. A criminal history check is also run on each applicant; however, please know that we are told there is no database available that will necessarily reveal all criminal history. We use good faith in attempting to use information from sources deemed reliable, but cannot guarantee the accuracy of information reported by the services. The service we use does a social security trace to determine and confirm address history. Any county (nationwide) resided in or associated with the SSN within the past seven years will then be researched on site at the court for both felony and misdemeanor records. The applicants pay for a large portion of the credit/criminal check; however there is presently a $30-$35 charge per applicant charged to the owner, for a more detailed criminal check. The charges may vary depending on county charges. Any overages will also be absorbed by the owner. The Company strives to comply with all applicable HUD (The Department of Housing and Urban Development) rules including the new HUD guidance on criminal background checks. Accordingly, we will take into consideration factors such as what the crime was and when it occurred to address any possible discriminatory impact issues. Therefore, even if an applicant has criminal history, this DOES NOT mean that the application will be automatically be declined.
View More
Nashville Area Information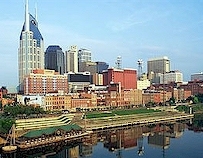 Nashville is the capital of the U.S. state of Tennessee and the county seat of Davidson County. It is located on the Cumberland River in the north-central part of the state. The city is a center for the health care, publishing, banking and transportation industries, and is home to a large number of colleges and universities. Reflecting the city's position in state government, Nashville is home to the Tennessee Supreme Court's courthouse for Middle Tennessee. It is most notably known as a center of the music industry, earning it the nickname "Music City".
The downtown area of Nashville features a diverse assortment of entertainment, dining, cultural and architectural attractions. The Broadway and 2nd Avenue areas feature entertainment venues, night clubs and an assortment of restaurants. North of Broadway lies Nashville's central business district, Legislative Plaza, Capitol Hill and the Tennessee Bicentennial Mall. Cultural and architectural attractions can be found throughout the city.
Areas We Service