Crieve Hall Property Management
Let us manage your Crieve Hall rental property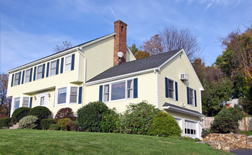 Browning-Gordon & Co., Inc., CRMC® is a full service Crieve Hall property management company, which offers our clients two basic levels of services. The first level is LEASING ONLY, where we work as your leasing professional to secure the best tenants for your property, on the best terms possible, leaving the day-to-day management to you. The next level is FULL MANAGEMENT, where we supply the leasing services and also provide you with complete day-to-day management.
Leasing Only Service
If you prefer to handle the day-to-day management of your property yourself but do not have the time or availability to market and show vacancies on a moment's notice, nor the expertise in choosing a new tenant, this is the right program for you. Browning-Gordon will provide the following services:
Careful and thorough tenant screening and qualification
Promoting of available properties, utilizing a broad range of advertising media
Sharing of availability lists with local companies and real estate firms
Professional, licensed agents to show your rental property
Collection of appropriate deposits
Use of strong, comprehensive lease agreements and addenda
24 hour rental hotline
Full Management Service
Our Company's Golden Rule:
"We strive to manage the property of others, as we would have others manage ours."
You can rest assured that Browning-Gordon knows that property worth owning is worth being properly managed. Our company has been in the property management business since 1960. We have both the experience and qualified personnel to provide the highest quality property management services to our clients. Our company never sleeps; we are on duty 24 hours a day, 365 days a year! In addition to the services listed for the LEASING ONLY SERVICE, we also provide the services listed below to our FULL MANAGEMENT clients:
Computer generated monthly owner reports
24 hour emergency maintenance service
Enforcement of lease, rules, and regulations
Monitoring of legislative changes affecting landlords
Owner and tenant surveys
Coordinating complete turnkey services----repairs, painting, cleaning, etc.
Key control procedures to protect against unauthorized entry
Collection of rent and other charges
End of year summary reports and 1099's to assist with tax preparation
Your residential properties are special to you and we are specialists in residential properties. If you do not have the time to manage your property, if your property is a house, condominium, townhome, or duplex; if it is residential...we can help you.
Inquire About Our Services
(615) 383-3999
Frequently Asked Questions
What do you require from the tenants in the way of deposits, fees and rents prior to leasing?
When a prospective tenant submits an application, the prospect must also submit an application fee, which is used to process the application through a credit verification service. In addition, the prospect is required to submit an escrow deposit, which is typically equal to approximately seventy-five (75%) percent of one month's rent. Once the application is approved and the lease is signed, the escrow deposit becomes the security deposit. At the time the tenant moves in, one month's rent is paid in advance. Even if the tenant moves in the property mid-month, one month's rent is required, and we will then pro-rate the second month's rent. A portion of the security deposit is earmarked for a non-refundable cleaning fee to have the property cleaned prior to the next tenant. The property is professionally cleaned between each tenant. The cleaning fee should cover most, if not all, of the general cleaning costs. The security deposit is held in an interest bearing Security Deposit Trust Account. This interest is retained by Browning-Gordon & Co., Inc.
View More
Areas We Service